Automotive Heating and AC Repair Shop
Shamrock Auto Care - Air Conditioning Repair Service Monroe NC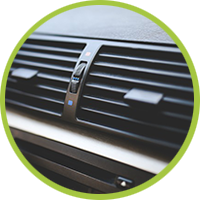 Automotive HVAC Services:
HVAC Diagnostics
Car AC Repair
Automotive Heating Repair
Belt Replacement
Compressor Repair/Replacement
Replacement Refrigerant

Your car's heating and air conditioning systems are of utmost importance to keep you and your family comfortable as you're driving down the road. Just like other systems on the vehicle, heating and air conditioning wears down with age. Shamrock Auto Care's preventative maintenance will ensure you that your heating and air conditioning will be there when you need it the most. You may have a more desperate situation that demands immediate attention and Shamrock Auto Care's ASE certified heating & air conditioning repair experts will get you comfortably back on the road in a timely manner.
Signs that it's time to come in:
Temperature fluctuations
Low air pressure on high settings
Audible noises
Unpleasant smell emitting from vents
Leaks
Don't wait till it's too late...
It's best to schedule your appointment before the temperatures get to their extremes. Spring and fall, when temperatures are mild, are both great times to come in and let us catch automotive heating and AC issues before you notice them. Preventative maintenance is key to maintaining a functioning and comfortable automotive heating and air system.​