Brake Repair and Replacement Service
Shamrock Auto Care - Brake Service Shop Monroe NC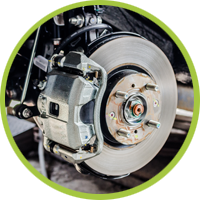 Automotive Brake Repair Services:
Brake Pads and Shoes
Brake Replacement
Brake Adjustment
ABS Diagnostic/Repair


Brake repair is of utmost importance to keep yourself and your family safe as you're driving down the road. Worn-down brakes can result in accidents and injuries. Shamrock is here to help. With full brake repair services and a keen attention to quality and detail, we can get you back on the road with a fresh set of safe, reliable brakes in no time... ensuring you can always come to a stop when it matters most.
Signs that it's time to come in for brake repair:
Sounds of squealing or grinding
Warning light (ABS)
Stiff brake pedals
Vehicle vibrations
Don't wait till it's too late...
We can't stress enough: do not wait until it's too late. You always want to have your brakes in good, working order. Even if you have a slight concern that something may be wrong, come by for a diagnostic and ensure you're safe on the road. Shamrock is your local brake repair shop with the right expertise to ensure you're kept safe, but not oversold. Book your appointment today, or simply stop in: