Oil Change Service
Shamrock Auto Care - Oil Changes for all Makes and Models - Monroe NC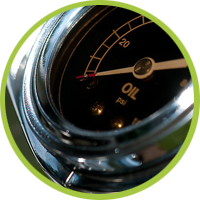 Most car manufacturers suggest an Oil Change every:
3,000 Miles or 3-months

Quality Automotive Care For Your Schedule
We understand the 3,000 miles/3-month rule can be hard to fit into your busy schedule, but at Shamrock we can get you in and out Monday-Friday in a timely manner. Our oil change service is comprehensive: oil is replaced along with the filter and other vital engine fluids are checked and replenished.
Quality Products Make A Difference...
You'll know you aren't sacrificing quality for convenience at Shamrock as well. We use only the highest quality oil products to ensure benefit to your vehicle's engine. Oil is the blood of your engine and it's important to use the best product to keep everything flowing properly. ​