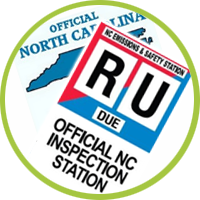 Vehicle Inspection checklist:
Suspension & Steering

Tires (wear and condition)
Parking (emergency) brake operation
Steering free-play
Steering linkage, joints and bearings
Shocks, struts, springs and bushings
Brakes (fluid, condition and operation)
Power steering (leaks and fluid)
serpentine/Drive belt condition
Electrical

Headlights (high-beams, low-beams)
Brake lights
Signal lights
Parking lights
Windshield wipers
Horn
Other Systems

Emissions and components
Exhaust system (leaks and mufflers)
Rear view mirrors (mounting & view)
window tinting must have at least 32% light transmittance

The Vehicle safety and Emissions Inspection
Before your vehicle can be registered in North Carolina you must complete a NC State Safety inspection. Shamrock Auto Care is a NC state approved official inspection center, all of our technicians are state certified for both safety and emissions inspections for all vehicles. Auto inspections usually take less than an hour and involves testing mechanical as well as safety features in your vehicle.
If your vehicle is a 1996 or newer model, in addition to a safety inspection an emissions test is mandatory by state law. Our technician will run onboard diagnostics to test if there are any issues with your vehicle. NC state vehicle inspections are designed to ensure that your vehicle is safe to drive and is operating correctly. If we find any issues that cause your vehicle to fail inspection, In most cases we will be able to repair those problems at our shop, you will have 30 days to remedy the problem and re-inspection cost is only one dollar.
Inspection fees:
$13.60 - Safety Only Inspection
$30.00 - Safety and Emissions Inspection
​