Pre-purchase Vehicle Inspection
Shamrock Auto Care used car inspections before you buy - Monroe NC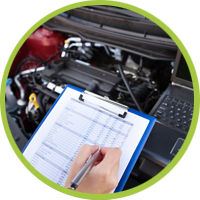 Vehicle Inspection Checklist:
Acceleration
Brakes
Ball Joints/Tie Rods
Fluid Levels
Handling
Suspension
Belts
Headlights/Signals
Shifting
Exhaust
Hoses
Overall Performance

Before buying a used car, know what you're getting...
We offer pre-purchase inspections so you can have peace of mind when buying a used auto. With seller approval, our technician will test drive and inspect the vehicle. Upon completion, we will discuss any issues or concerns we discover.
What is a Pre-Purchase Vehicle Inspection and why do I need one?
Pre-purchase inpections will give you a detailed report about the mechanical, cosmetic and safety condition of the vehicle you are interested in buying.
So you've found a used car and you're happy with the price, but should you buy it? Our advice to anyone buying a used car is to have the vehicle thoroughly inspected by a third-party ASE certified mechanic. Our shop uses the most up-to-date equipment and technology which allows us to perform pre-purchase vehicle inspections for all makes and models including foreign and domestic.